The McRib is back, again.

I didn't even know this until I was reading the drive-through menu at a local McDonalds recently. (I got a salad so don't start talking to me about Super Size Me, which is a must-see if you ask me.)

So there was a photo of the McRib, in all its McGross glory on the menu.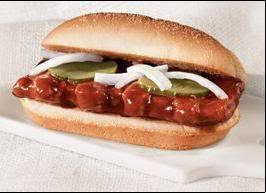 Do not look directly at the McRib!
As you can probably tell, I'm not a fan. I've never had a McRib because I don't have any McSurance and I'm almost certain that ingesting one of those sandwiches would land me in the McHospital with a bad case of McPoisoning.
Moving on.
McDonalds has started the McRib Farewell Tour in an effort to sicken thousands of people across the nation. For those of you not familiar with the
McRib
, it is a pork sandwich introduced by McDonalds back in 1982.
If you are a glutton for punishment check out the McRib Farewell Tour's website at
www.mcrib.com
. The site has locations of Farewell Tour stops, McRib Sandwich and pork trivia, and a place to sign a petition to keep the McRib Sandwich on the McDonald's menu. (For real)
Warning: If you have a weak stomach I do not recommend going to that website. There are a McMultitude of McRib photos of supposed victims, er, I mean customers happily consuming McRibs. They are actually smiling! I think it's all a conspiracy. I bet those people didn't even eat those McRibs. They probably just posed happily and as soon as the photo was taken, promptly spit out the remains of the McRib, or what I would call McRibble.
If you are a fan of the McRib, I'm McSorry. Maybe McDonalds will come up with an equally disgusting sandwich to replace the McRib. Like the McTripe or McPossum.
Enough with the McTalk, I'll stop now. I have to go lie down. All this talk has made my stomach hurt. McLater.